The ground-breaking UK band, Massive Attack, are re-issuing their classic album, Mezzanine on April 19th. Mezzanine, a Trip Hop and Dub masterpiece, was ranked number 15 in "Q Magazine's 100 Greatest British Albums Ever". Now, after twenty years, the iconic release by Massive Attack has been remastered and will feature unreleased Dub remixes by the legendary, Mad Professor.^

Grant "Daddy G" Marshall and Robert Del Naja AKA 3D
Along with the 3 color vinyl pressings, and 2CD set, there will also be a DNA release encapsulated in a aerosol spray can. The album's 'digital audio files were converted into 920,000 short DNA strands which were then stored in 5,000 miniscule glass spheres'. Mezzanine was the second-largest file ever stored using DNA.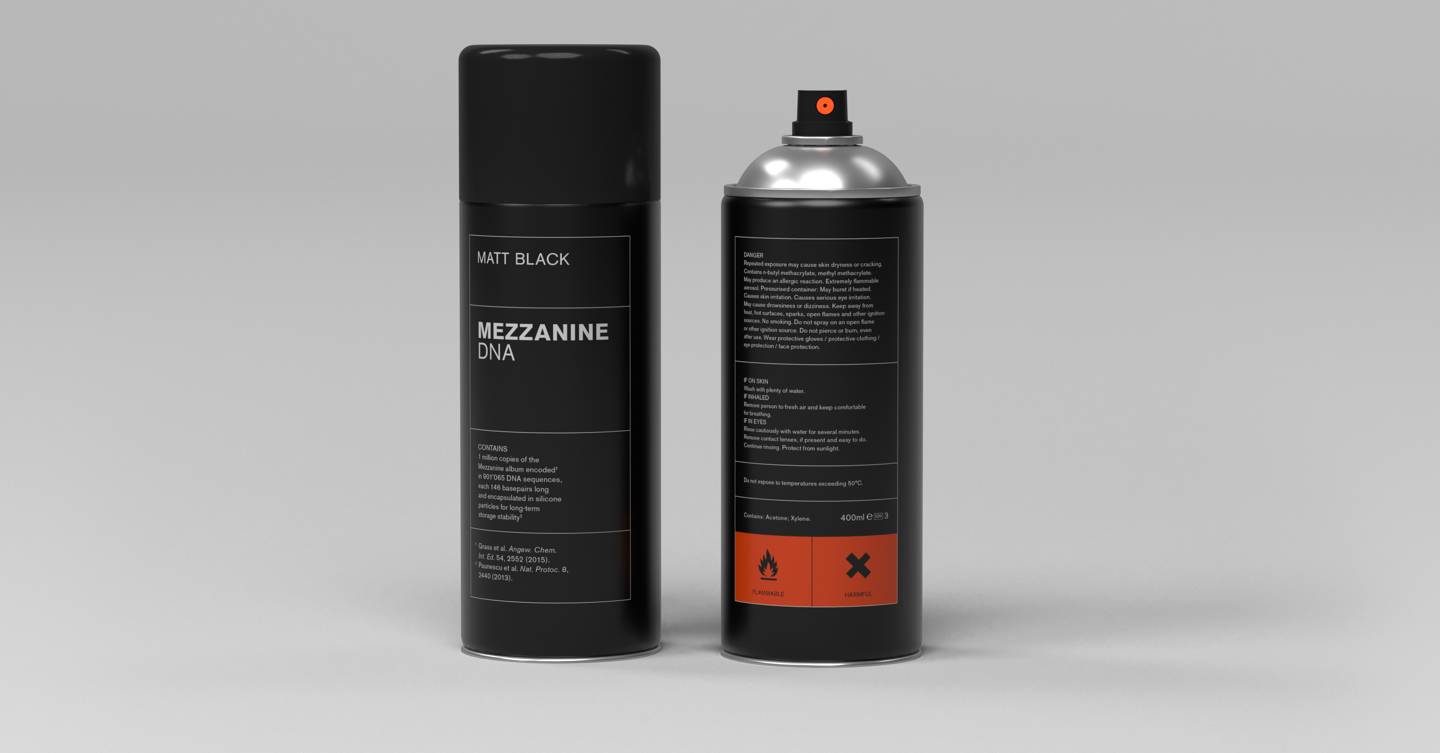 The spray can is considered a homage to graffiti artists, including founding member Robert Del Naja AKA 3D, who has long been suspected to be the one and only, Banksy.

Artwork by Robert Del Naja

Here are some of the rumors and/or evidence supporting this theory:
"8 signs Massive Attack's Robert Del Naja is mystery artist" Banksy, presented by UK's Independent newspaper. The Daily Mail also weighed in on the subject, quoting journalist Craig Williams, who says he's got compelling evidence that Robert "3D" Del Naja is also the anonymous street artist Banksy, 'known for his cheeky stencil work and other street art projects worldwide'. 'Again and again Williams claims, murals pop up in cities where Massive Attack has staged concerts, shortly after the performances take place. Not only that, but Del Naja was a graffiti artist in the 1980s and professes to be friendly with Banksy.'
According to NME, "Goldie may have accidentally made reference to Banksy's true identity during a recent interview. Speaking to Scroobius Pip for his Distraction Pieces podcast, the legendary DJ can be heard referring to Banksy as "Rob" (or "Robert", as some listeners appear to hear). Goldie then added: "No disrespect to [Rob/Robert], I think he is a brilliant artist. I think he has flipped the world of art over."
The film soundtrack for Banksy's documentary 'Exit Through The Gift Shop; features original music by Portishead's Geoff Barrow & Roni Size, who both originate from Robert Del Naja's and Banksy's hometown of Bristol, England.

Update: Massive Attack Meets Banksy...Again

In support of the 20th anniversary reissue of Mezzanine, the band will be touring Europe:
01-28 Glasgow, Scotland
01-29 Manchester, England
01-31 Brussels, Belgium
02-01 Amsterdam, Netherlands [Sold Out]
02-01 Amsterdam, Netherlands [Sold Out]
02-04 Frankfurt, Germany
02-05 Munich, Germany
02-06 Milan, Italy
02-08 Rome, Italy
02-09 Padua, Italy
02-11 Paris, France [Sold Out]
02-12 Paris, France
02-14 Bordeaux, France
02-16 Barcelona, Spain
02-17 Madrid, Spain
02-18 Lisbon, Portugal [Sold Out]
02-19 Lisbon, Portugal
02-22 London, England
02-24 Dublin, Ireland
03-01 Bristol, England [Sold Out]
03-02 Bristol, England

...and North America:
03-11 Montreal, QC [Sold Out]
03-12 Toronto, ON [Sold Out]
03-14 Boston, MA [Sold Out]
03-15 New York, NY [Sold Out]
03-16 New York, NY
03-19 Philadelphia,PA
03-20 Washington, DC
03-22 Detroit, MI
03-23 Chicago, IL [Sold Out]
03-24 Saint Paul, MN [Sold Out]
03-28 San Francisco,CA [Sold Out]
03-29 Los Angeles, CA [Sold Out]
03-30 Los Angeles, CA [Sold Out]
03-31 Los Angeles, CA
04-02 San Diego, CA

JUST ADDED: The Massive Attack tour will feature vocalists; Elizabeth Fraser & Horace Andy, plus visuals by Adam Curtis [filmmaker of HyperNormalisation, etc.].
Visit: Massive Attack for more info and tour updates.

^The Mad Professor remixes:
Metal Banshee (Mad Professor Mix One)
Angel (Angel Dust)
Teardrop (Mazaruni Dub One)
Inertia Creeps (Floating On Dubwise)
Risingson (Setting Sun Dub Two)
Exchange (Mountain Steppers Dub)
Wire (Leaping Dub)
Group Four (Security Forces Dub)